Parade participants and vendors wanted! The "World's shortest parade" on 4th of July in Aptos is ready to take parade entries and vendors for the Party in the Park. We are expecting an amazing turnout and want to invite all of Santa Cruz County to take part in it.
Parade entries can include but are not limited to: Classic/antique vehicles, floats, bands, walkers, dancers, dogs, etc.
We are also looking for vendors for the Party in the Park for those who sell jewelry, flowers, clothes, children's toys, art, photography, activities, food, and more.
2018_Vendor Application_Aptos 4th of July
T-shirts are available now! Come get your shirt at one of the following locations: Deluxe Foods, Aptos Feed & Pet Supply, Santa Cruz County Bank, Cinnamon Bay Clothing, Pacific Coffee Roasting Co., The UPS Store, the Aptos Chamber of Commerce, and Art Supplies, Ink.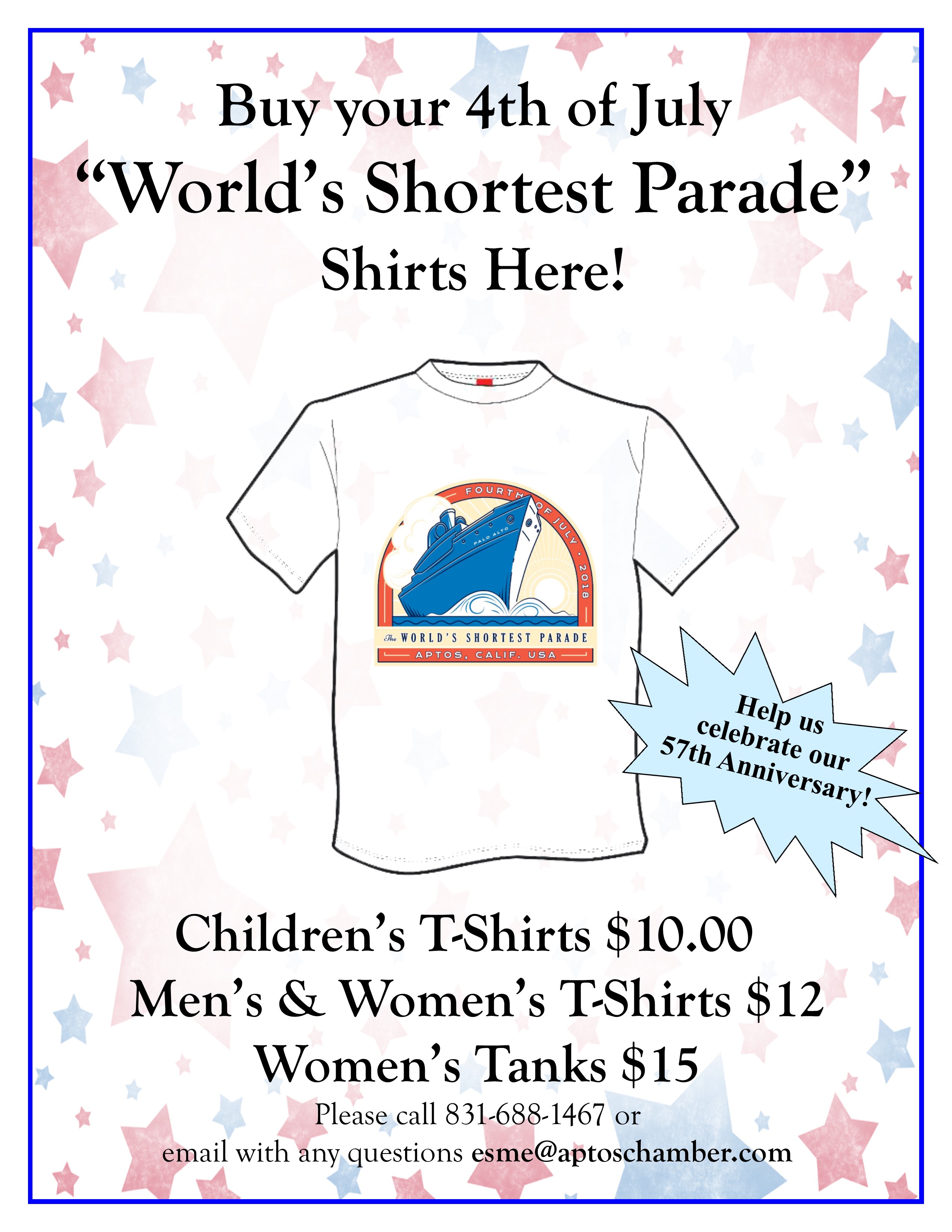 Please call the Aptos Chamber of Commerce for more information 831-688-1467.
2018 Festivities
GRAND MARSHALL: MICHAEL WATKINS, SANTA CRUZ COUNTY OFFICE OF EDUCATION SUPERINTENDENT OF SCHOOLS
Become a Aptos 4th of July Sponsor Today

Pancake Breakfast: 7-10am at burger. Aptos parking lot
Hosted by the Aptos Chamber of Commerce. Sponsored by: burger.Aptos, Erik's DeliCafé, Kiss Catering, Safeway, Starbucks Coffee, Severino's, Gizdich Ranch, & Whole Foods
Worlds Shortest Parade: 10am-12pm
Begins at intersection of State Park Dr & Soquel Dr and ends at the Trout Gulch & Soquel Dr intersection. Hosted by the Aptos Chamber of Commerce. Sponsored by New Leaf Community Markets, Aegis Living, Earth Works, Rio Sands Hotel, Coldwell Banker, Green Waste, & Sereno Group. Be part of the parade! Fill out our Parade Application and send it in to esme@aptoschamber.com
Party in the Park: 12-4pm at Aptos Village Park
Family Fun Day! Something for the whole family: kids games, face painting, pony rides, zorbs, bounce houses, kids crafts, food trucks, caterers, beer, wine and local favorite band EXTRA LARGE!
Sponsored by Green Waste & ACE Portable Services. Want to be a vendor? Download the Vendor Application and submit it to jennifer@aptoschamber.com