Aptos 4th of July Celebration
America: Your Land, My Land, Our Land
Sponsored by 
Pancake Breakfast
Time: 7:00-10:00am
Cost: $10 adults/ $5 children
Location: Parking Lot of burger.Aptos
Enjoy a traditional breakfast of pancakes, eggs, sausage, orange juice, and coffee before the "World's Shortest Parade". Partial proceeds will be donated to Search and Rescue.
4th of July Parade
Time: 10:00-12:00pm
Location: State Park Dr (Wells Fargo) to Trout Gulch (Bayview Hotel)
This year's theme: America: Your land, My Land, Our Land
Sign up for the "World's Shortest Parade" and participate in a local tradition!
2017 Parade Application
Party in the Park
Time: 12:00-4:00pm
Cost: $5 donation
Location: Aptos Village Park
Are you interested in being a vendor at the Party in the Park?
2017_Vendor Application_Aptos 4th of July
T-shirts coming soon!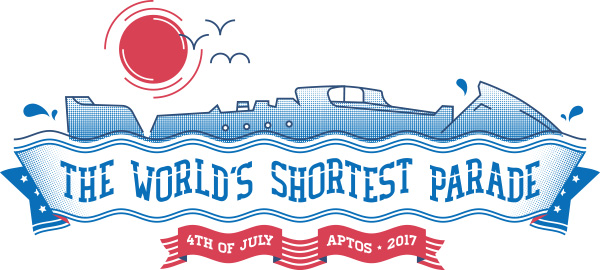 Sponsorship Opportunities
America, your land, my land, our land! The 4th of July reminds us that this is a country built on liberty and gives everyone a chance to come together and celebrate our great nation as one. The Aptos 4th of July festivities have been bringing communities together for over 55 years and invites you to be a sponsor to show your involvement and commitment to local community during a fun, family focused 4th of July.
The Aptos' "World's Shortest Parade" has gained national recognition as one of the top seven 4th of July parades by the prestigious Condé Nast Traveler on the magazine's daily traveler web site. The festivities begin with a "good ol' fashioned" Pancake Breakfast followed by the "World's Shortest Parade", ending with a "Party in the Park" with games, music and food for the whole family. This day-long celebration draws thousands of people from all over the state and we hope you will consider this a valuable partnership for your company.